The Complete Knob-Tailed Gecko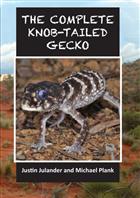 Description:
Covers all aspects of this group of geckos, with a particular focus on natural history and husbandry. The authors have beautifully documented the diversity of appearance and coloration of these geckos with an exhaustive number of beautiful photos of the animals in their natural habitat. These geckos are understandably some of the most popular species in herpetoculture and this book presents a look into their lives in nature as well as their captive care and breeding.
About the Authors
Justin Julander has been keeping and breeding Australian reptiles for the past 23 years. He is the founder and owner of Australian Addiction Reptiles. He is the co-author of three other books, including The Complete Carpet Python, The Complete Children's Python, and Green Tree Pythons; Natural History and Captive Care. Justin received a Ph.D. in Bioveterinary Sciences in 2005 from Utah State University, where he is currently employed as a research professor in the Institute for Antiviral Research.
Michael Plank has been fascinated with reptiles since the early age of five and has kept and bred various Australian reptiles. Michael has a B.S. in Biology with concentrations in Organismal Systems and Zoology. In 1996, he founded Big Game Reptiles and is currently the owner/operator of BGR and co-owner of RP Reptiles. Michael has traveled extensively throughout Australia and has exhaustively studied Nephrurus, both in their natural environment and in captivity
You may also like...