The Descent of Man and Selection in Relation to Sex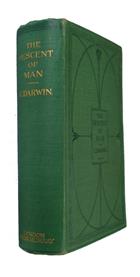 Description:
Second edition, reprint.
Condition
8vo, orig. cloth, gt to spine, slightly rubbed. Vg. From the library of Keith Hyatt (d. 2021), acarologist at the Natural History Museum, London, and prominent member of the London Natural History Society, with his ownership to the front pastedown.
Other titles from the collection : Keith Hyatt
You may also like...