The Dynastine Scarab Beetles of Costa Rica and Panama (Coleoptera: Scarabaeidae: Dynastinae)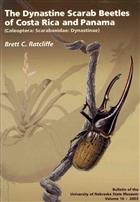 Description:
Comprehensive review of the 157 species of dynastine scarab beetle occurring in Costa Rica and Panama. Keys, descriptions, distributions, notes on biology. 15 new species described.
Bull. Univ. Nebraska State Mus. 16
Other titles from the series : University of Nebraska State Museum Bulletins
You may also like...