The Dynastine Scarab Beetles of Honduras, Nicaragua and El Salvador (Coleoptera: Scarabaeidae: Dynastinae)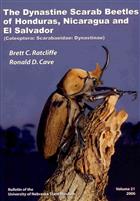 Description:
Comprehensive review of the 116 species of dynastine scarab beetle occurring in Honduras, Nicaragua & El Slavador. Keys, descriptions, distributions, notes on biology.
Bull. Univ. Nebraska State Mus. 21
Condition
New but with creases to front and rear cover.
Other titles from the series : University of Nebraska State Museum Bulletins
You may also like...