The Genera of Fishes and A Classification of Fishes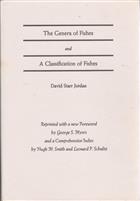 Description:
Long recognized as a classic in zoological taxonomy, 'The Genera of Fishes' is reissued along with its companion volume 'A Classification of Fishes', in a single volume. Presents a stable nomenclature and a general classification of both fossil and living forms. Reprinted with a new Foreword by George S. Myers and a Comprehensive Index by Hugh M. Smith and Leonard P. Schultz. The five parts reprinted herein were originally published in the Stanford University Publications, University Series: No 27: Genera Pt 1, 1917; No. 36: Genera Pt II, 1919; No. 39: Genera Pt III, 1919; No. 43: Genera Pt IV, 1920; Biological Sciences, Vol. III, No. 2, Classification, 1923. First published in this edition 1963.
Condition
Orig. cloth, in d/w. Vg.
You may also like...