The Insects: An Outline of Entomology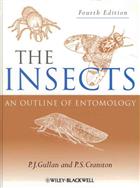 Description:
4th updated edition of this established textbook. Introduces the key features of insect structure, function, behavior, ecology and classification, placed within the latest ideas on insect evolution. The economic importance of insects is emphasized in new boxes on insect pests, and in chapters on medical and veterinary entomology, and pest management. Updated 'taxoboxes' provide concise information on all aspects of each of the 27 major groupings (orders) of insects
You may also like...