The Joy of Bees:Bees as a model of sustainability and beekeeping as an experience of nature and human history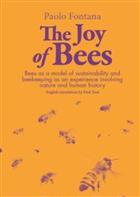 Publisher : WBA
Illustrations : col + b/w illus
Description:
Translated into English from the original Italian edtion by Paul Tout. This book examines the evolution, morphology, biology and behaviour of the history and relationship of bees and mankind. The author also examines the history and new frontiers of beekeeping in depth, viewing it as a warning light in the current global environmental crisis.
A rich and original collection of knowledge on bees presented in the form of analogies, paraphrases, and exaggerated images, some taken from literary classics, others taken from folk literature, films and television. The narrative bubbles as if the authors is speaking in his own dialect, and it is to the credit of translator Paul Tout that the English text has not lost the pace, character and exuberance of the language of the author's original. The book traces a clear path that guides the reader to a full awareness of the fundamental role that this insect plays for humanity, from a bio-ecological point of view and beyond, i.e. sociological, anthropological and, more generally, humanistic. In short this book synthesizes a wealth of knowledge acquired through the author's passionate study.
You may also like...