The Lichens and Allied Fungi of Great Smoky Mountains National Park: An Annotated Checklist with Comprehensive Keys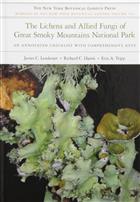 Description:
Written by three of the country's foremost lichen specialists, this volume lifts the shroud of mystery that has surrounded the lichen biota of the Smokies and reveals that lichen diversity in the Great Smokey Mountains National Park is the greatest of any American national park. Included in this treatment are: a revised and annotated checklist; comprehensive keys to all 804 known species of lichenized, lichenicolous, and allied fungi in the Park; extensive ecological notes on noteworthy discoveries; discussion of records for new and interesting taxa; formal descriptions of two genera and 12 species new to science; color micrographs illustrating all new genera and species; and distribution maps for selected species.
Other titles from the series : Memoirs of the New York Botanical Garden
You may also like...