The Mexican Transition Zone: A Natural Biogeographic Laboratory to Study Biotic Assembly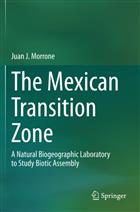 Publisher : Springer
Illustrations : 62 col illus, 1 b/w illus
Description:
This book presents an evolutionary biogeographic analysis of the Mexican Transition Zone, which is situated in the overlap of the Nearctic and Neotropical regions. It includes a comprehensive review of previous track, cladistic and molecular biogeographic analyses and is illustrated with full color maps and vegetation photographs of the respective areas covered.
Given its scope, the book will be of interest to students and researchers whose work involves systematic and biogeographic analyses of plant and animal taxa of the Mexican Transition Zone or other transition zones of the world, and to ecologists working in biodiversity conservation, who will be able to appreciate the evolutionary relevance of the Mexican Transition Zone for establishing conservation areas..
You may also like...