The Mount Everest Expedition of 1936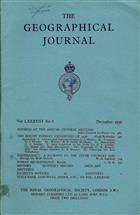 Description:
The Geographical Journal Vol. 88 (6), pp 491-523. Issue includes other papers. This is a detailed account of the Sixth British Expedition to Mount Everest with Hugh Ruttledge as Leader. The account includes a set of appendices and of fine photographs.
Condition
Wrappers. Good.
You may also like...