The Muscidae (Diptera) of Central Europe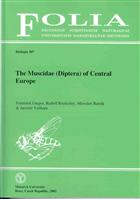 Description:
Review of Central European Muscidae (Austria, Czech Republic, Germany, Hungary, Poland, Slovakia, Switzerland). Identification keys to subfamilies, tribes, genera and species. Specific characteristics for all 397 species, and biological notes.
Folia Facultatis Scientiarum Naturalium Universitatis Masarykianae Brunensis. Biologia 107.
You may also like...