The Natural History of the Rose Bedeguar Gall. Part 2: Field Work and Keys to the Insect Inhabitants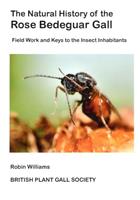 Description:
Keys to the Hymenoptera (Cynipidae, Chalcididae and Ichneumonidae) associated with the Rose Bedeguar Gall on wild dog rose. The primary gall causer is the cynipid wasp Diplolepis rosae
You may also like...