The Nymphalidae of China (Lepidoptera, Rhopalocera). Part I: Libytheidae, Danainae, Calinaginae, Morphinae, Heliconiinae, Nymphalinae, Charaxinae, Apaturinae, Cyrestinae, Biblidinae, Limenitinae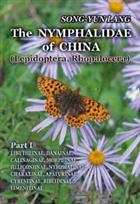 Description:
Text English. 28 colour plates illustrate set specimens; 3 show living butterflies, and 1 habitats. 41 plates of genitalia (b/w photos + line drawings)
Other titles from the series : Nymphalidae of China
Click to view all titles in this series...

Lang, S.-Y.
Price £129.00
You may also like...