The Plant-Hunter's Atlas: A World Tour of Botanical Adventures, Chance Discoveries and Strange Specimens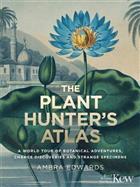 Description:
The Plant Hunter's Atlas is a lavishly illustrated volume telling some of the most extraordinary tales of horticultural discovery and exploring the characters behind the stories. Taking in the world's inhabited continents and spanning the centuries, the stories range from tales of derring-do in the age of discovery to modern-day botanists working at the cutting-edge of science. The text explores how plant hunters have been inspired by everything from scientific curiosity to economic greed, and their own ingrained sense of adventure.
Each entry is illustrated with botanical artwork from the Royal Botanical Gardens, Kew's unrivalled collection of historical illustrations. Among the plant hunters included are: Sir Joseph Banks, Charles Darwin, David Douglas, Reginald Farrer, George Forrest, Robert Fortune, Tadeas Haenke, Tom Hart Dyke, Alexander von Humboldt, the Lobb brothers, John Sibthorp and Ernest Henry Wilson.
You may also like...