The Planthoppers and Leafhoppers of Czech Republic Identification keys to all families and genera and all Czech species not recorded from Germany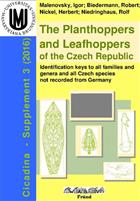 Description:
Text English. Supplement to the main work on 'Planthoppers and Leafhoppers of Germany' (Biedermann & Niedringhaus, 2009); this volume includes details of the additional species recorded from the Czech Republic.
Other titles from the series : Cicadina - Sonderband
You may also like...