Hemipteres Pentatomoidea euro-mediterraneens. Vol. 1 Faune de France 90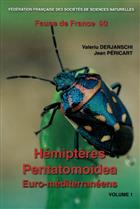 Series : Faune de France
Volume: 90
Publisher : FFSSN
Published In : Paris
Illustrations : 153 text figs, 55 maps, 16 col plates
Description:
Text French. Bilingual keys (French/English). 2nd edition. First of a series of four volumes to cover the euro-mediterranean Pentatomoidea. Vol. 1 includes a general section followed by systematic treatment of tribes Sciocorini, Aeliini, Eysarcorini and Strachiini (=Eurydemini)
Other titles from the series : Faune de France
You may also like...