Hyménoptères sphéciformes d'Europe. Vol. 2: Crabroninae (pt 2), Dinetinae, Eremiaspheciinae et Mellininae (Faune de France 102)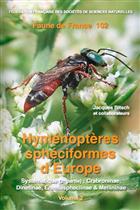 Description:
Text French. Following from the previous volume Faune des Hyménoptères Sphecidae de France et d'Europe occidentale (Faune de France 79, 1993), the author has now, in collaboration with Yvan Barbier, Severino-F Gayubo , Hans-J Jacobs , Jean Leclerc and Konrad Schmidt, produced this new work, which extends coverage to the whole of geographical Europe (all countries from the Atlantic to the Urals and from Scandinavia to the Mediterranean). This is the second of three volumes. This work enables identification of the species and provides information on their biology and distribution. The previously unpublished identification keys are all illustrated with line drawings. The main genera are illustrated by colour photos.
Other titles from the series : Faune de France
You may also like...