Vespidae solitaire de France métropolitaine (Hymenoptera: Eumeninae, Masarinae) Faune de France 98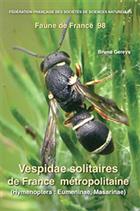 Series : Faune de France
Volume: 98
Publisher : FFSSN
Published In : Paris
Illustrations : 64 figs, 67 photos
Description:
Text French. Bilingual keys (French/English) to all species and subspecies know from France and to all European genera. Covers the Vespidae found in France (29 genera + 122 species of potter wasp and 2 genera + 4 species of pollen wasp).
Includes up-to-date information on taxonomy, biology, ecology and distribution of the Vespidae known from mainland France. Illustrations include line drawings of morphological characters and colour photographs of most genera covered.
Other titles from the series : Faune de France
You may also like...