Apidae 2: Colletes, Dufourea, Hylaeus, Nomia, Nomioides, Rhophitoides, Rophites, Sphecodes, Systropha (Fauna Helvetica 4)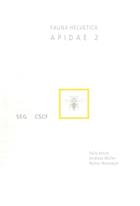 Description:
Revised and corrected reprint of the original 1999 edition. 2nd part on the bees of Switzerland. Keys for identification of genera (in German + French); species keys and remaining text in German: description, distribution, flight period, biology, hosts of parasitic species.
Other titles from the series : Fauna Helvetica
You may also like...