Apidae 1: Apis, Bombus (Fauna Helvetica 29)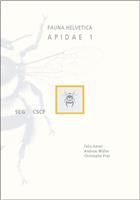 Description:
2nd revised and enlarged edition. (1st edition published as Insecta Helvetica Fauna 12, 1996). First part of a series of books covering the bees of Switzerland. Introductory sections and keys for identification of genera (bilingual German/French); species keys and remaining text in German: description, distribution, flight period and biology.
Other titles from the series : Fauna Helvetica
You may also like...