The Rainbow Bridge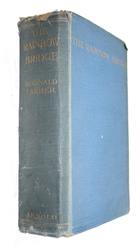 Description:
Second impression (first published in 1921). Reginald John Farrer (1880-1920), British traveller and plant collector. From April 1914 Farrer spent two years with William Purdom, a Kew-trained gardener, in Kangsu, north-west China, and in Tibet, collecting specimens and seeds. One the most exciting of their finds were Gentiana farreri, 'which burned in the alpine turf like an incandescent turquoise' (Allan, 192), and the winter-flowering guelder-rose, Viburnum farreri; but others, like Geranium farreri, Aster farreri, and Clematis macropetala, can also be found today in specialist nurseries. On his return Farrer described his expedition in the flamboyant On the Eaves of the World (1917) and the posthumously published The Rainbow Bridge. (ODNB)
Condition
8vo, cloth, gt, worn, some fading, rear joint split. Hinge cracked but still holding. Scattered foxing. A fair copy.
You may also like...