The Reptiles of the Western Palearctic. Vol. 1: Annotated Checklist and Distributional Atlas of the Turtles, Crocodiles, Amphisbaenians and Lizards of Europe, North Africa, Middle East and Central Asia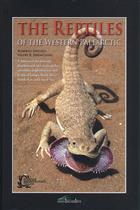 Description:
Comphrehensive guide to the reptiles, excluding snakes, living in Europe, North Africa, Middle and Near East and Central Asia. Annotated checklist and distributional atlas of about 500 species. Information on distribution, subspecies, chorotype, affinities and main references for each species. For each species map the bibliographic and original sources (more than 850 sources are listed) are indicated. Additional chapters: Materials and Methods; Status of knowledge on the Western Palaearctic reptiles; Composition of the Western Palaearctic reptile fauna (including a statement on biodiversity and species richness); Descriptive biogeography (including a discussion on the Palaearctic Region boundaries based on reptile distribution and the herpeto-geographic sectors of the Western Palaearctic); Conservation status. More than 250 species representative of almost all of the supraspecific taxa living in the study area illustrated in colour
Other titles from the series : Historia Naturae
You may also like...