The Sand Wasps: Natural History and Behaviour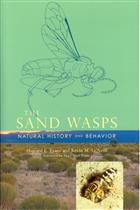 Description:
Howard Evans described over 900 species and authored more than a dozen books on a wide range of entomological and natural history subjects. Upon his death in 2002, he left behind an unfinished manuscript, intended as an update (though not a revision) of his classic 1966 work, The Comparative Ethology and Evolution of the Sand Wasps. Kevin O'Neill has completed and enlarged this manuscript, to provide coverage of all sand-wasp tribes in Evan's earlier book. The result is a tribe-by-tribe, species by species review of studies of the Bembicinae that have appeared over the last four decades
You may also like...