The Sphagnum Species of the World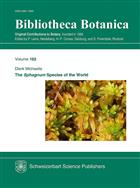 Description:
Documents the worldwide known peat moss species (genus Sphagnum) with keys for their identification. An updated, enlarged English language version of the author's original peat moss flora of 2011 (in German), the first overall presentation of Sphagnum since Carl Warnstorf's 'Sphagnologia Universalis' of 1911. The English edition has 12 additional species, 23 new plates and a new chapter on Sphagnum ecology. Taxonomic revisions, and approximately 150 species described since Warnstorf's work have been incorporated into this volume, as well as the results of the author's own studies. Genetic characteristics were used to define the species of problematic groups. The peat mosses are of key ecological and economic importance among the mosses. They populate almost all continents with a clear focus on northern South America, North America, East and North Asia and Europe.
Description and identification of the sections, keys for all peat moss species, separated by continents, as well as Sphagnum species lists for 20 phytogeographic regions of the world. The keys for Africa, Europe and North America are based on existing data and were revised and supplemented with the help of recent descriptions, updated species concepts and new floristic data. Completely new keys have been developed for South America and Asia, as these did not exist previously. 292 peat moss species are described in detail, supplemented by data on habitats, geographical distribution and lists of synonyms. This section is supplemented by the presentation of the inner and outer characteristics on 219 plates.
Other titles from the series : Bibliotheca Botanica
Click to view all titles in this series...

van Bruggen, H.W.E.
Price £50.00
You may also like...