The Vartian Collection. Part IV. Geometridae Fibigeriana Vol. 4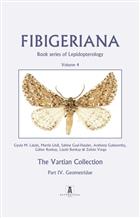 Description:
The fourth (final) part of the series of the Vartian Catalogue, containing the Geometridae material of the Vartian collection preserved in the Natural History Museum Vienna. The Geometridae section of this collection is supposedly the richest western and Central Asiatic reference material of this very diverse and yet insufficiently studied fauna, comprising nearly 22100 specimens of 1353 species-group taxa. The specimens have been collected in altogether 52 countries but the overwhelming majority of the Geometridae specimens originate from Armenia, Transcaucasia, Iran, Afghanistan and Pakistan. There are significant materials having been gathered from the Balkan Peninsula, Spain and Morocco and, naturally, the local fauna of Austria is also well represented in the collection. The complete list of the countries of origin of the Geometridae is presented prior to the collection check list section of the book. All species listed in the check list are associated with the abbreviation of all countries where the specimens of the given taxon have been collected. The descriptions of seven new species and their genitalia are also presented. All recognised taxa of the collection are illustrated on the 87 colour plates. Most specimens are shown at natural size but certain groups comprising small-sized species (e.g. Sterrhinae, Eupithecini, etc.) are illustrated in 1.5x magnification.
Other titles from the series : Fibigeriana - Book series of Lepidopterology
Click to view all titles in this series...
Lodl, M.; Gaal-Haszler, S.; Jovanovic-Kruspel, S. et al
Price £85.00

Lodl, M.; Gaal-Haszler, S.; Ronkay, G.; Ronkay, L.; Laszlo, M.G.
Price £45.00
Lodl, M.; Gaal-Haszler, S.; Varga, Z.; Laszlo, G.M.; Ronkay, G.; Ronkay, L.
Price £89.00
You may also like...