The Wildlife Pond Book:Create Your Own Pond Paradise for Wildlife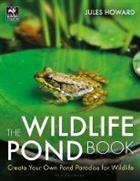 Description:
Ponds are vital oases for nature. They are nursery grounds, feeding stops and bathing spots. They are genetic superhighways and vibrant ecosystems each brimming with life, interactions and potential. And they are for everyone. In The Wildlife Pond Book, Jules Howard offers a fresh perspective on ponds and encourages gardeners to reach for a garden spade and do something positive to benefit our shared neighbourhood nature. As well as offering practical tips and advice on designing, planting up and maintaining your pond, Jules encourages readers to explore the wildlife that colonises it with a torch, a microscope or a good old-fashioned pond-dipping net. With a foreword by award-winning wildlife-gardening author, Kate Bradbury, this helpful new guide includes a section outlining the hundreds of organisms that may turn up in your pond and is packed with creative ideas that have been tried and tested by author Jules Howard, an avid pond-builder, prolific pond-dipper and passionate voice for freshwater conservation for more than fifteen years. So, no matter how big your outdoor space is, The Wildlife Pond Book is the guide you need to create your very own haven for nature.
You may also like...