The Witt Catalogue Vol. 7: A Taxonomic Atlas of the Eurasian and North African Noctuoidea: Erebidae I. Autophila and Apopestes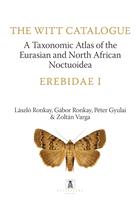 Description:
This 7th volume of the Taxonomic Atlas series is the first item dealing with the family Erebidae, providing the revised taxonomy of the rather difficult, Trans-Palaearctic, typically xeromontane-eremic genera Autophila Hübner, [1823] and Apopestes Hübner, [1823].
Contains the latest taxonomic information, full synonymy and effective diagnoses of all known 110 taxa of Autophila and Apopestes, in addition the description of a new genus Apopautophila. Includes descriptions of 6 new species and 9 new subspecies. Illustrated with 27 colour plates of high quality magnified photos displaying all taxa included and with 21 colour plates showing the variation of each taxon in natural size. The genitalia of all species and subspecies are figured on 110 black and white plates
Other titles from the series : Taxonomic Atlas of Eurasian & N African Noctuoidea
You may also like...