The Witt Catalogue Vol. 3: A Taxonomic Atlas of the Eurasian and North African Noctuoidea: Apameini 1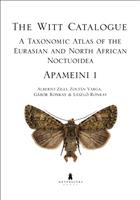 Description:
Revision of the Apamea generic complex - 16 genera (6 newly established (Genoveva, Hoenapamea, Mohapamea, Oriasapamea, Fahejbarna and Pluviapamea)). Most included species belong to the genus Apamea which is divided here into 7 subgenera six of which are also newly described.
This volume includes 29 new species and 8 new subspecies, and numerous taxonomic and nomenclatural changes
Other titles from the series : Taxonomic Atlas of Eurasian & N African Noctuoidea
You may also like...