The Witt Catalogue Vol. 1: A Taxonomic Atlas of the Eurasian and North African Noctuoidea: Plusiinae 1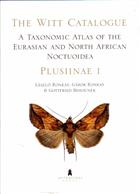 Description:
Vol. 1 of a series covering all Eurasian and North African species of the superfamily Noctuoidea (Noctuidae s.l.(Noctuidae, Nolidae, Erebidae, Micronoctuidae, etc.), Notodontidae, Arctiidae (s.l.) and Lymantriidae). A total of 60 volumes will complete the series, and they will be published at the rate of 2 volumes per year (each with approx. 120-180 species). The series will comprise a complete revision of the Noctuoidea of the region based on adult morphology. Each volume will include: Taxonomy, Synonymy, Diagnostic Features, Basic information for identification; Distribution; Description of new taxa (the first three volumes include ca. 60 undescribed taxa); Colour Plates: two enlarged specimens of each taxon; Specimens natural size illustrating variability of the given taxa; Full-page genitalia figures (male and female)
Other titles from the series : Taxonomic Atlas of Eurasian & N African Noctuoidea
You may also like...