Tracks and Signs of the Birds of Britain and Europe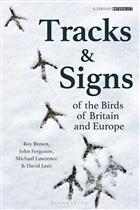 Description:
Contains a wealth of fascinating material for any field naturalist. This unique guide enables the reader to find, interpret and understand field marks left by a variety of birds throughout Britain and Europe, and to use these to identify the species in question. It covers subjects including tracks and trails, feeding and other behavioural signs, nests, pellets, droppings, feathers and skulls, habitat types and field analysis methods. All European bird families are featured, with numerous individual species being described in detail.
Fully revised and updated, this third edition contains a great deal of new material, including 19 new colour plates and hundreds of new photographs, line drawings and diagrams.
This book is an indispensable addition to any feather-finder or track-watcher's backpack - the ultimate resource for anyone wanting to identify a bird species from the sometimes subtle clues they leave behind.
Other titles from the series : Bloomsbury Naturalist
Click to view all titles in this series...

Egan, D.
Price £20.00
(Save £5.00)

Bot, S.; Meutter, F. van de
Price £28.00
(Save £7.00)
You may also like...