Treatise on Zoology - Anatomy, Taxonomy, Biology - The Crustacea, Vol. 3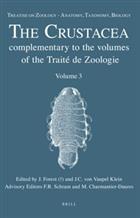 Description:
New revised English edition of the Crustacea volumes from "Traite de Zoologie" (Vol. 7 Parts 1, 2, and 3A 1994-1996). New up-to-date standard reference to biology and systematics of the Crustacea. This volume contains chapters on: Neuroanatomy; Neurohormones; Embryology; Relative Growth and Allometry
Other titles from the series : Treatise on Zoology: Anatomy, Taxonomy, Biology
You may also like...