Treatise on Zoology. The Crustacea, Decapoda, Vol. 9 Part A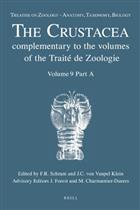 Publisher : Brill
Illustrations : text figs
Description:
Ninth volume in the Treatise on Zoology: Crustacea will cover the diverse group Decapoda, for which no French edition in 'Traite de Zoologie' was ever published. This volume comprises the first part. (Vol. 9 will commence publication before vols 3-8)
Other titles from the series : Treatise on Zoology: Anatomy, Taxonomy, Biology
You may also like...