Tricholoma (Fr.) Staude Fungi Europaei 3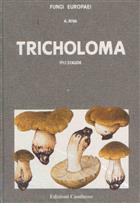 Description:
Text Italian, keys English/Italian.
This volume is a combination of two volumes, the original published in 1988 and its supplement published in 2003. The first volume includes: 141 species of the Tricholoma-Armillaria s.s. group; 11 genera which are separated from Tricholoma s.l.; taxonomy, keys and the description of the species
Other titles from the series : Fungi Europaei
You may also like...