Trophic Ecology: Bottom-Up and Top-Down Interactions across Aquatic and Terrestrial Systems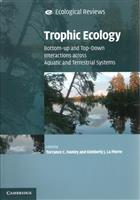 Description:
As researchers try to predict the effects of human modification at all trophic levels and mediate the impact of rapid environmental change, it has become clear it is no longer a matter of agreeing that both bottom-up and top-down forces play important roles in diverse ecosystems. Rather, the question is: how do these forces interact across aquatic and terrestrial systems? Written by leading experts in the field, this book presents a unique synthesis of trophic relationships within and across ecosystems that is a valuable foundation for the development of cross-system, multidisciplinary research. It also provides new insights into population biology and community ecology and examines the interactive effects of bottom-up and top-down forces on biodiversity at each trophic level.
Condition
Bump to top of spine. Vg.
Other titles from the series : Ecological Reviews
Other titles from the collection : Prof Jim Green
You may also like...