Tsetse Flies in British West Africa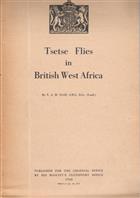 Description:
The foreward states ' The purpose of this report is to present a clear, yet deatiled, picture of the state of our knowledge in 1945 of the bionomics and distribution of Glossina in West Africa'. Includes Nigeria, The Gold Coast, Sierra Leone and the Gambia.
Condition
Vg.
You may also like...