Étude quantitative et qualitative du cycle écologique des dinoflagellés dans les eaux de Villefranche-Sur-Mer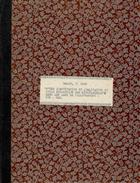 Description:
Text French. Ann. Inst. Oceanogr. 38(2): 123-232.
Condition
Errata page pasted to verso of title-page. Vg. From the library of Prof. J. Green (1928-2016) with his name to endpaper. Presentation copy, signed, from the author to Dr. R. Subrahmanyan of Central Rice Research Institute. Also signed by R. Subrahmanyan.
Other titles from the collection : Prof Jim Green
You may also like...