Uplands and Birds (New Naturalist 142)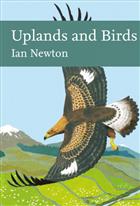 Description:
The uplands of Britain are unique landscapes created by grazing animals, primarily livestock. The soils and blanket bogs of the uplands are also the largest stores of carbon in the UK, and 70% of the country's drinking water comes from the uplands. It's a significant region, not least to the multitudes of bird species that hunt, forage and nest there. Once again, Ian Newton demonstrates his mastery of the subject matter at hand, in this beautifully illustrated, authoritative addition to the New Naturalist series.
Other titles from the series : New Naturalist Main Series
You may also like...