Wandernde Schwärmeraten (Totenkopf-, Winden-, Oleander- und Linienschwärmer)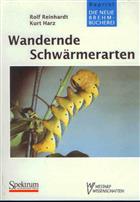 Description:
2nd unaltered edition (reprint of the 1st edition of 1989). Text German. An introduction to the biology of the migratory hawkmoths: Death's Head Hawkmoth (Acherontia atropos), Convolvulus Hawkmoth (Agrius convolvuli), Oleander Hawkmoth (Daphnis nerii) and Silver-striped Hawkmoth (Hyles livornica)
Other titles from the series : Neue Brehm-Bücherei
You may also like...