Wasp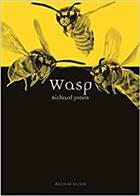 Description:
Fear and fascination sets wasps apart from other insects. Despite their iconic form and distinctive colours, they are surrounded by myth and misunderstanding. Often portrayed as cartoon-like stereotypes bordering on sad parody, wasps have an unwelcome and undeserved
reputation for aggressiveness verging on vindictive spite. This mistrust is deep-seated in a human history that has awarded commercial and spiritual value to other insects, such as bees, but has failed to recognize any worth in wasps.
Leading entomologist Richard Jones redresses the balance in this enlightening and entertaining guide to the natural and cultural history of these powerful carnivores. Jones delves into their complex nesting and colony behaviour, their unique caste system and their major role at the centre of many food webs. Drawing on contemporary scientific concepts and featuring many striking colour illustrations, Jones successfully shows exactly why wasps are worthy of greater understanding and appreciation.
Other titles from the series : Animal Series
You may also like...