Wasps of Surrey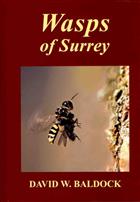 Description:
Includes accounts of the 242 species (almost 90% of the British list) of solitary and social wasps recorded from Surrey, with 112 illustrated in colour. In addition to information on status and distribution, there is information on the behaviour and biology of wasps, including: conservation and biodiversity; gardening for wasps; finding wasps and how to identify them including a fully illustrated key to the aculeate families.
Other titles from the series : Surrey Wildlife Atlas Series
You may also like...