Butterflies of Surrey Revisited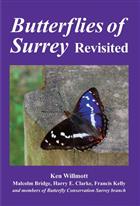 Description:
Butterflies of Surrey (1995) by Graham Collins, was the first of the Surrey Wildlife Atlas series and has long been out of print. Much has changed since 1995: Surrey has lost Pearl-bordered and Small Pearl-bordered Fritillaries, Duke of Burgundy and the Wall, while Glanville Fritillary has been controversially introduced in the Farnham area. Of our current 42 resident or regular migrant species, 24 have declined in abundance since 2000. This 2013 volume is neither a revision nor a second edition. It is a new book that expands the scope of the original volume, takes advantage of additional and more diverse data as well as improved technology, and is based on records up to 2012.
The main section of the book comprises the species accounts, each with a distribution map, abundance and flight-period charts, plus a featured transect table. Comparisons are drawn between the years before 2000 and the period 2000-2012.
Other titles from the series : Surrey Wildlife Atlas Series
You may also like...