Winter Trees: A photographic guide to common trees and shrubs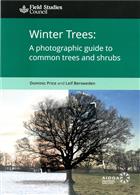 Description:
Enables identification of 36 common broad-leaved deciduous tree species, or groups of species, most likely to be found in the United Kingdom. Identification of trees in winter is based on buds, type of bark, size of tree and habitat.
Other titles from the series : AIDGAP GUIDES
You may also like...