(1) Vorarbeit zur Revision der Eumorpha obliquus (Rothschild & Jordan, 1903)-Artengruppe mit der Beschreibung ener neuen Art aus Bolivien (Lepidoptera: Sphingidae); (2) Zur Kenntnis von Macroglossum sitiene Walker, 1856 und zu dieser phaenotypisch nahe st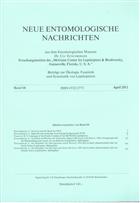 Description:
(1)-(3) by U. Eitschberger; (4) by R.V. Yakovlev. Neue Entomologische Nachrichten Bd 66.
Condition
Vg.
Other titles from the series : Neue Entomologische Nachrichten
Click to view all titles in this series...

Schurian, K.G.
Price £22.00
You may also like...