A Bilingual Field Guide to the Frogs of Zululand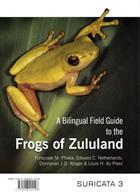 Description:
Text bilingual English/Zulu. Frogs are in general poorly known and highly misunderstood; yet they are among the most important members of the animal kingdom. These harmless creatures are as colourful and melodious as birds and they have outlived dinosaurs, but are currently under threat of extinction. Their presence or absence can tell us a lot about an environment and their presence is vital to the functioning of many ecosystems. Frogs are an unusual group of animals as they live in two different environments; water and land. Being unusual is what
makes them important and it unfortunately also contributes to them being misunderstood.
You may also like...