A Catalogue of the Richard Owen Collection of Palaeontological and Zoological Drawings in the British Museum (Natural History)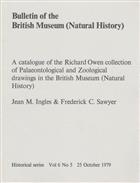 Description:
Bull. Br. Mus. Nat. Hist (Hist. Ser.) Vol. 6(5): 109-197.
Condition
Vg.
Other titles from the series : Bulletin of The Natural History Museum: Historical
Other titles from the collection : Ken Smith
You may also like...