A Field Guide in Colour to Bees and Wasps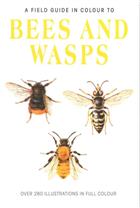 Description:
This is a practical guide to bees,and wasps, including the solitary wasps. Written by a leading authority on hymenoptera, it illustrates 160 species in colour, with a key to identifying significant groups of European bees and wasps. Sections cover the many specialisations of this group of insects.
Condition
Vg.
You may also like...