A Field Guide to the Reptiles of South-East Asia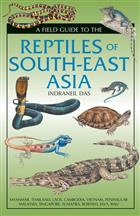 Description:
The first comprehensive guide to the snakes, lizards, crocodiles, tortoises and turtles of southeast Asia, covering more than 1000 species and subspecies in detail. Provides up-to-date information on identification, habitat, behaviour, subspecies, distribution and status. Information on behaviour and morphology, as well as how to measure and identify species according to scale counts and other anatomical features.
You may also like...