A General Revision of the Palaemonidae (Crustacea Decapoda Natantia) Americas. I. The Subfamilies Euryrhynchinae and Pontoniinae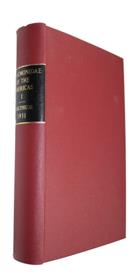 Description:
Allan Hancock Foundation Publication of USC Occasional Paper 11.
Condition
8vo, nicely bound in buckram, gt leather title to spine. Fine. From the library of Prof. J. Green (1928-2016) with his name to endpaper.
Other titles from the collection : Prof Jim Green
You may also like...