A General System of Nature, through the three grand Kingdoms of Animals, Vegetables, and Minerals. Vol. III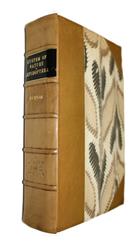 Description:
'Transated from Gmelin's last [13th] Edition of Systema Naturae, by Sir Charles Linne. Amended and enlarged by the improvements and discoveries of later naturalists and societies … by William Turton'. Vol. III - Insects Part 2 - includes orders: Lepidoptera, Neuroptera, Hymenoptera, Diptera, Aptera.
Condition
8vo, attractively rebound in recent half calf, raised bands to spine, leather title-piece, marbled boards. Occasional foxing/spotting. Vg.
You may also like...