A Guide to Fossil Collecting on the West Dorset Coast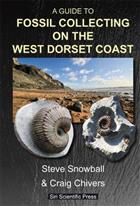 Description:
This is a guide on the safe and responsible collection of fossils along the beautiful and often wild section of West Dorset's Jurassic Coast.
This sumptuously illustrated book, in full colour throughout, provides invaluable advice for the fossil collector. It contains up-to-date information regarding the geology, the exposures and the fossils themselves, making this a 'must-have' guide to browse through at leisure, or as an invaluable aid to any forthcoming field trip to the many locations that are so vividly described.
You may also like...